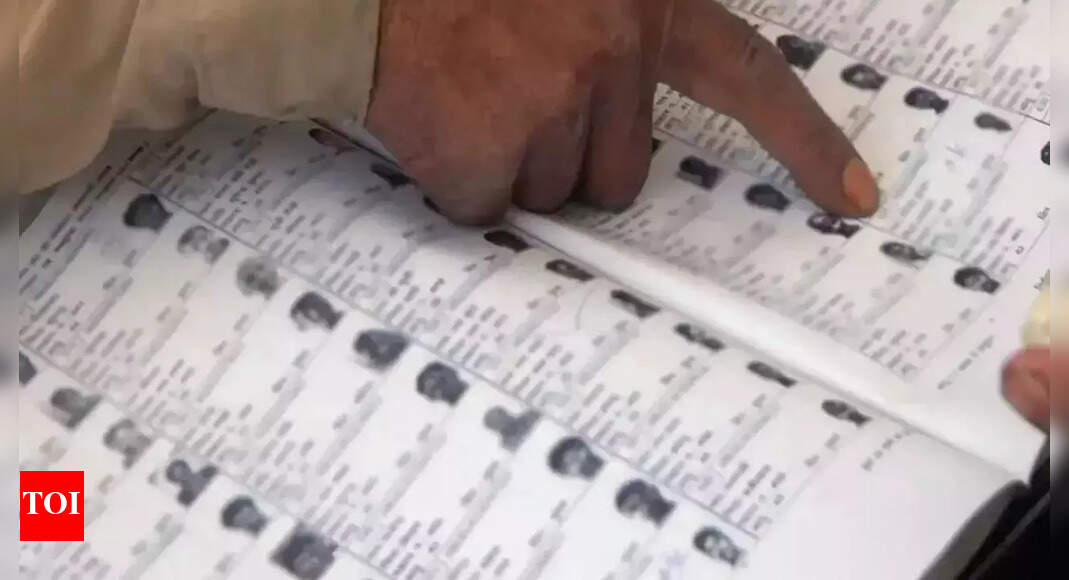 CHANDIGARH: The Election Commission of India's (ECI's) total restraint enforced on physical campaigning for the February 14 polls in Punjab, in view of the surge in Covid-19 cases, has put political parties in a sticky situation as they hope to reach out to the masses through a full digital campaign.
Parties are hardly left with a month's period to campaign. The incumbent Congress and Bharatiya Janata Party (BJP)-Punjab Lok Congress (PLC)-Shiromani Akali Dal (Sanyukt) alliance are yet to even release the first list of their candidates. Though all parties claim to be using social media handles, they agree they are yet to come up with a new strategy to handle the present situation. Even as Covid cases are are rising in the state, all political parties are hoping for the ECI to give some relaxations on January 15.
Both Aam Aadmi Party (AAP) and Congress are falling back on their national social media teams to run digital campaigns for Punjab. The All India Congress Committee (AICC) has deputed a team in Chandigarh, while a group of experts from Delhi is running the campaign for AAP.
AICC national coordinator for social media and Punjab incharge for social media Gaurav Pandhi said it was for the first time that a political party in Punjab was connecting with the people of the state electronically to get suggestions for the party manifesto – through a portal, an e-mail address and a toll-free number. "The press conferences of Punjab co-incharge Raghav Chadha are being held virtually, and press conferences and videos of all key leaders are being shared on social media platforms for a wider reach," said an AAP leader.
Punjab BJP IT cell head Rakesh Goyal said that the saffron party had appointed social media in-charges in all constituencies last month to reach out to the last person at the booth level and spread the work of the Narendra Modi-led central government. "Apart from other publicity material, we ensure that even all the party events are telecasted live through the party's social media handle 'BJPunjab' on YouTube, Facebook and Twitter," said Goyal. Though he said that the party has also trained its workers even at the district-level meetings how to effectively use social media, Goyal is also expecting some relaxation from ECI on January 15. Party's Twitter handle '@BJPunjab' has over 65,000 followers.
'People in villages don't use social media'
The digital election campaign has come as a big challenge for 84-year-old Taksali leader and former MP Ranjit Singh Brahmpura, who has been fielded by the Shiromani Akali Dal (SAD) from Khadoor Sahib constituency. "I do not even use a mobile phone, leave aside social media. Election Commission's orders are like a curfew for us and it must be reviewed to give some relaxation for physical campaigns," said Brahmpura. Similarly, he said, there are many people like him in villages of Punjab who do not know anything about social media. Elections cannot be fought by political parties without meeting their voters physically and ultimately politicians will have to do door-to-door campaigns, he underlined. The former MP suggested that the election commission should also facilitate debates of leaders from different political parties on various platforms in view of the Covid restrictions. "How will you reach out to the rural population and poor people who don't see television, don't use smartphones and don't even read newspapers?," asks SAD spokesperson aljit Singh Cheema. It is a fact that voter turnout goes down if an aggressive election campaign is not done, said Cheema, adding that the SAD is going to write to the election commission to review its orders.
Experience from farm stir:
The leaders of SSM said they had the experience of running digital campaigns, though for an entirely different cause. A majority of political parties and their cadres had already been using social media platforms, including Whatsapp, Twitter, Facebook and Instagram. However, the situation is different for the 20 constituents of Sanyukt Samaj Morcha, which has been formed by farmgroups whose support is mostly in rural area. Barring a few large farm unions, rest of the constituents largely depend on "personal touch" for reaching voters. Lakhbir Singh Nizampura, state vice-president of All India Kisan Sabha, a constituent of SSM, said, "These days many people have smartphones; but, yes, given the profile of the majority of our vote bank, the phones are basic, but we can't ignore social media". Harjinder Singh Tanda, president of another constituent of SSM, Azad Kisan Sangarash Committee (AKSC), said their village cells and units were more effective than social media. AKSC has considerable presence in Amritsar and Tarn Taran. "Within minutes, we can mobilise our voters through these cells and units," he said. Tanda too said they couldn't ignore social media given its wide reach. "At least groups on Whatsapp help contact people having smartphones," he said, adding they were also planning to set up an IT cell on the lines of the cell during the farm agitation. – Yudhvir Rana
BJP ALLY DHINDSA SAYS NEED RELAXATIONS
Rajya Sabha member and SAD(Sanyukt) chief Sukhdev Singh Dhindsa, who is himself is recovering from Covid-19, told TOI on phone, "I agree that there should be some restrictions by the Election Commission in view of the increasing Covid cases, but complete ban on physical meetings will make it impossible to reach out to everyone when (people from the) older generation, like me, are not familiar with the digital medium." Dhindsa's son Parminder Singh, who is sitting MLA from Lehra, said ECI's rules were same for everyone and when lives matter more than elections, their party would find ways to connect with the people.