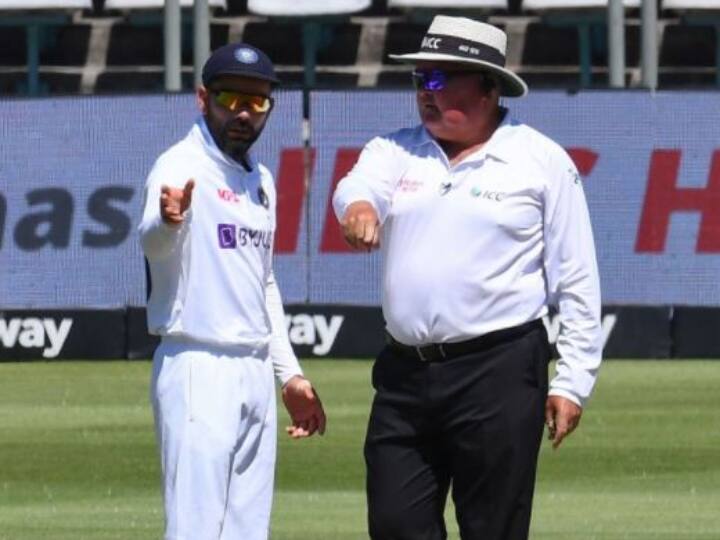 New Delhi: The third and final match of the three-match Test series between India and South Africa is currently being played at the Newlands Cricket Ground (NCG) in Cape Town. On day 1, team India won the toss and decided to bat first.
Team India, in their first innings, were reduced to just 223 runs. Defending such a low total, skipper Virat Kohli looked energetic and ensured to keep everything under control, not lose the momentum they got at end of Day 1's play by getting Dean Elgar's wicket just before Stumps.
India started Day 2 well with pacers Mohammed Shami and Jasprit Bumrah bowling good length deliveries to keep things tight, putting pressure on the hosts.
Meanwhile, an on-field incident made skipper Kohli quite unhappy. When Mohammed Shami was bowling, umpire Marais Erasmus gave the speedster a warning because the umpire felt that Mohammed Shami was stepping on the danger area of ​​the pitch during his follow-ups. This prompted an irked Virat to walk up to umpire Erasmus and have a long chat with him, possibly what looked like an intense argument.
The replays later showed on the big screen that Mohammed Shami hadn't stepped on the danger area of the pitch during his follow-ups.

— Benaam Baadshah (@BenaamBaadshah4) January 12, 2022
Erasmus gives a official warning to Shami for running in danger zone#INDvSA #Cricket #Shami pic.twitter.com/94790SQTCr


— Pushkar Pushp (@ppushp7) January 12, 2022
Talking about the match, South Africa lost three wickets for 100 runs by lunch on day 2 of Ind vs SA 3rd Test against India. At the time this article was filed, South Africa were 132/4, 91 runs behind India's paltry first innings total of 223 runs.