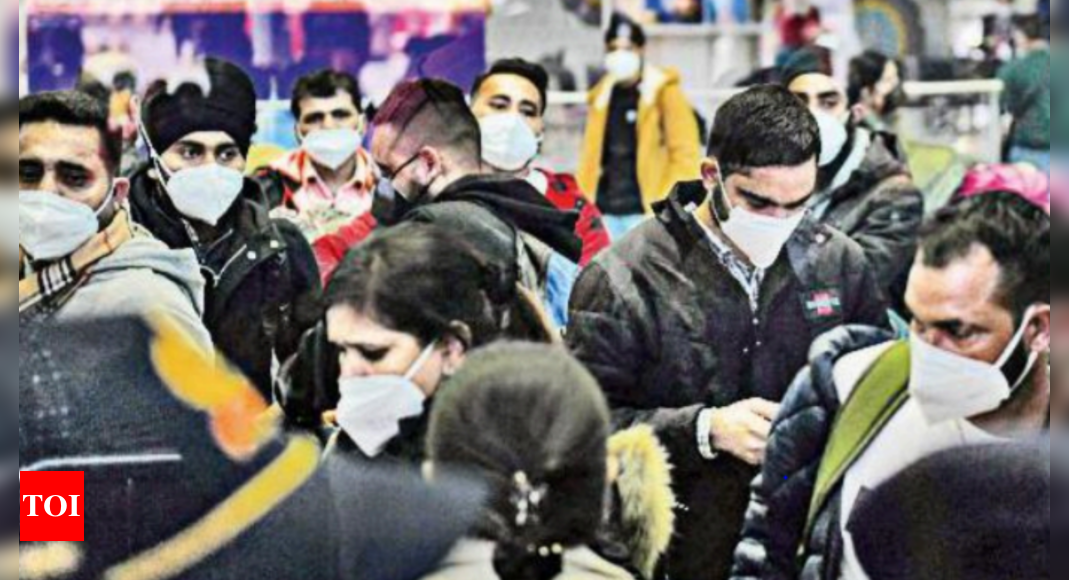 AMRITSAR: After a bulk of fliers arriving at Amritsar's Sri Guru Ram Das International airport tested positive for the second day in a row, the district health authorities, apprehending fake positive results of RT-PCR tests, on Friday decided to get confirmatory tests done. As many as 373 international passengers had come here from Italy on Thursday and Friday.
Amritsar civil surgeon has also directed investigation of the functioning of the private laboratory conducting these tests at the airport.
Amritsar airport director V K Seth said a total of 285 passengers had arrived from Italy on Friday. "RT-PCR report of 210 passengers was shared with us, out of which 173 tested positive while the report of 75 passengers was inconclusive due to some technical issue," he said. Following this, a meeting of senior officials of health department was convened and it was decided to get confirmatory tests done of all international passengers who tested positive on Thursday and Friday.
Sources said confirmatory tests of all the passengers who tested positive would be conducted free of cost. Health authorities would collect samples of 75 persons whose reports remained inconclusive from their houses or they could go to hospitals in their respective districtsfor the tests.
On Thursday, 125 out of the 179 fliers who arrived in Amritsar from Italy tested positive for Covid-19.
All the passengers were sent to isolation centres in their respective cities while 13 from Amritsar absconded. The district administration has announced stringent measures against them, including cancellation of their passports, declaring them '10 Numbari' and registration of police cases.
Additional deputy commissioner Ruhi Dugg said on Friday that four out of 13 patients who had absconded had reported at the hospital but left after giving their samples. She said the civil administration had sent their details to the police to bring them to the hospital from their homes, following which other action would be taken.
Sources said two 'absconding' patients got themselves tested from some other laboratory on Friday and tested negative for Covid 19.
In the recent past, rapid RT-PCR machines were installed at Sri Guru Ram Das International Airport for 100% Covid testing of passengers arriving at the airport in the wake of Omicron spread. Every passenger is charged Rs 2,700 per rapid RT-PCR test.
Civil surgeon Dr Charanjit Singh expressed surprise over a large number of fliers testing positive consecutively for the second day. "As many as 172 out of 285 tested positive, raiseding questions over the laboratory functioning. I have directed that investigation be done," he said. Accoring to an official release on late Friday evening, 3 out of 13 'absconding' 19 patients were admitted in the isolation ward of Guru Nanak Dev Hospital while the rest isolated in their respective houses.