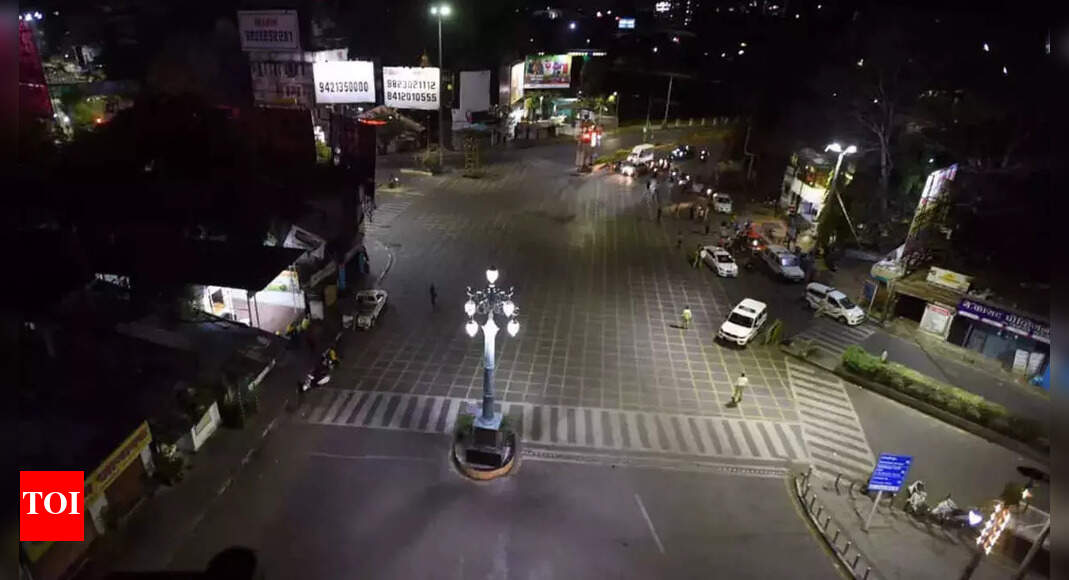 CHANDIGARH/AMRITSAR: Faced with mounting Covid-19 cases in poll-bound Punjab, the state government on Tuesday imposed night curfew for all non-essential activities from 10 pm to 5 am within the municipal limits till January 15. It also ordered closure of all education institutes, sports complexes, swimming pools and gyms, but allowed operation of bars, cinemas, malls, restaurants and museums at 50% capacity.
The daily Beating the Retreat ceremony held jointly by the border guarding forces of India and Pakistan at Attari will continue but with certain restrictions. Now, the air-conditioned buses will run at 50% of capacity.
Apart from this, only fully vaccinated staff will be allowed in government as well as private offices, working spaces, factories and industries. No service shall be provided in government or private offices to persons not wearing proper face masks.
The order issued by the state home department has imposed these restrictions under the Epidemic Disease Act, 1897, read with all other enabling provisions of Disaster Management Act, 2005.
Directions have been issued to strictly ensure wearing of masks by all persons in public places, including workplaces. Social distancing of minimum 6 feet (do gaz ki duri) for all the activities has to be maintained.
District authorities have been asked to issue prohibitory orders under Section 144 of CrPC and ensure strict compliance of the night curfew within municipal limits of all the cities and towns of Punjab. But, essential activities including operation of multiple shifts in industry and offices (both government and private), movement of persons and goods on national and state highways and unloading of cargo and travel of persons to their destinations after disembarking from buses, trains and airplanes will be permitted.
While all educational institutions – schools, colleges, universities, coaching institutions – shall remain closed, academic schedules will be maintained through online teaching. However, all medical and nursing colleges will continue to function normally.
All sports complexes, stadia, swimming pools and gyms shall remain closed except those being used for training of sportspersons for participation in national and international sports events as well as for organising national and international sports events.
No spectators or visitors will be allowed.
The daily Beating the Retreat ceremony held jointly by the border guarding forces of India and Pakistan at Attari will continue but with certain restrictions.
Sources informed that the flag-lowering ceremony at Attari would either be limited to 50% capacity or would be allowed to be attended by 700 persons as per the district administration's directions on the upper limit of persons in outdoor gatherings.
However, the final decision would be taken on Wednesday.
The viewers galleries at the Attari International border can accommodate around 25,000 viewers.
Deputy commissioner Gurpreet Singh Khaira said the drill would continue with restrictions as per the latest guidelines.
To prevent the spread of coronavirus, the public viewing of the ceremony was suspended on March 7, 2020.
Partial restrictions were lifted on September 15, 2021, followed by end of curbs a few days later.