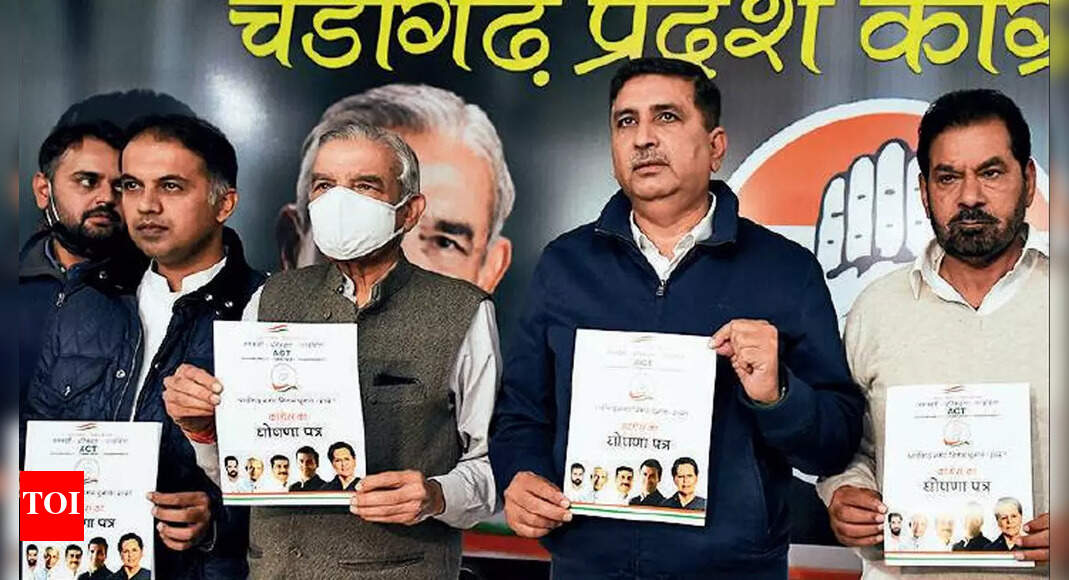 CHANDIGARH: Congress has resolved to ensure the city's growth and development with accountability, commitment, and transparency, according to its manifesto for the municipal corporation (MC) elections released at its party office in Sector 35 here on Wednesday.
Senior Congress leaders, including former Union minister Pawan Kumar Bansal, AICC general secretary Harish Choudhary, AICC coordinator Abhishek Dutt and Chandigarh Congress Subhash Chawla vowed to make the city number 1 again if voted to power.
Bansal, while ridiculing BJP's tall claims of city welfare, said only Congress can bring the city back on the track of development.
While addressing a press conference, Bansal rubbished BJP claims, saying the only work BJP did in the last six year was to bring city's ranking to 66th position from number 1 position in Swachh Survekshan. "The city has witnessed downfall in every field during BJP rule," he said.
Sood said Advanced Trauma Centre (ATC) is under construction in Sarangpur for better health services. MBBS seats in GMCH 32 were increased from 50 to 200 with a view to increase the number of doctors in the city, he said.
Referring to the upliftment of education in the city, Sood said during the last five years, 11 new government smart schools were opened in Chandigarh and five were under-construction. Modern education is being provided to the students through smart schools. He said that in view of the quality of education, Chandigarh has become number one in the Education Index report of NITI Aayog, beating Delhi.
Sood in his address said sporting arenas also found a new dimension with the opening of nine new sports complexes during the MC tenure. This includes six full-fledged and three mini sporting complexes. Six sports complexes have been dedicated to the residents. Apart from these 99 grounds were attributed to sports.