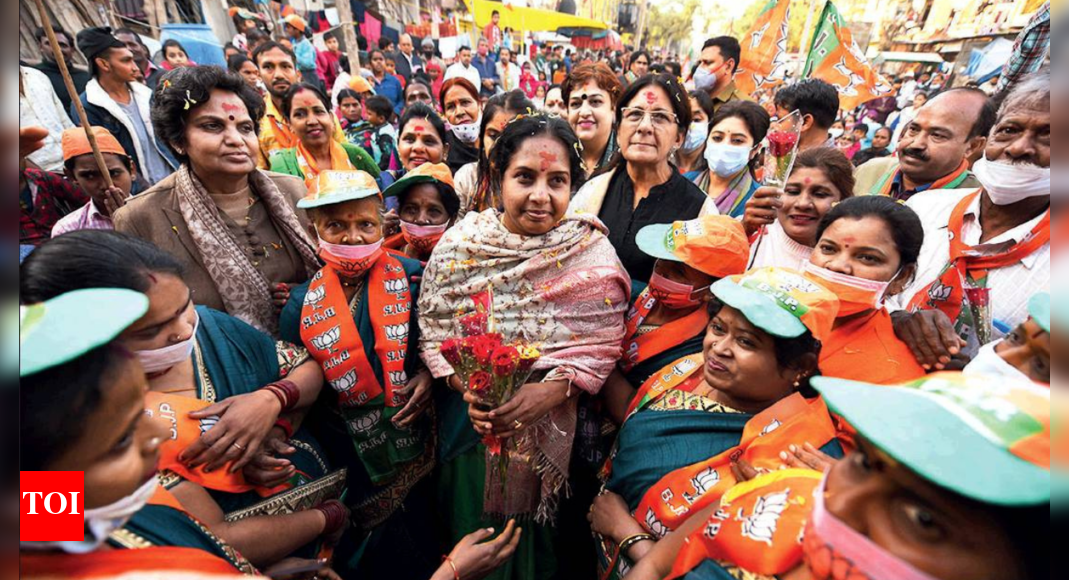 Vanathi Srinivasan, BJP MLA from Coimbatore (south), is welcomed for her rally for the municipal corporation elections at Bapu Dham in Chandigarh on Saturday
CHANDIGARH: Eyeing over 50,000 Tamil Nadu population in the city, BJP on Saturday brought its Coimbatore MLA Vanathi Srinivasan — she had defeated actor Kamal Haasan in a close contest — here to campaign for the civic body elections.
Stressing that BJP is committed for the upliftment of Tamils, the party's Mahila Morcha national president called Chandigarh one of the safest cities for women while crediting her party for installing CCTV cameras in every nook and corner to add a new dimension to security. Srinivasan addressed a series of public gatherings and urged local Tamil voters to support BJP candidates.
Presence of Tamilians in the city can be traced back to 1952, after the then Tamil Nadu CM, K Kamaraj, mutually agreed to then Punjab CM Bhim Sen Sachar and Class IV jobs were allotted to 1,000 Tamil families in the UT administration
' Thakur gels with youth'
A senior BJP leader said Thakur will be the party's star campaigner and address a number of public meetings and rallies here. "Thakur has a good connect with the city's youth and he regularly visits Chandigarh. The party will definitely benefit from his visit," he said. Rana, who is staying in Sector 33, has started mobilising his circle in Chandigarh.
FacebookTwitterLinkedinEMail