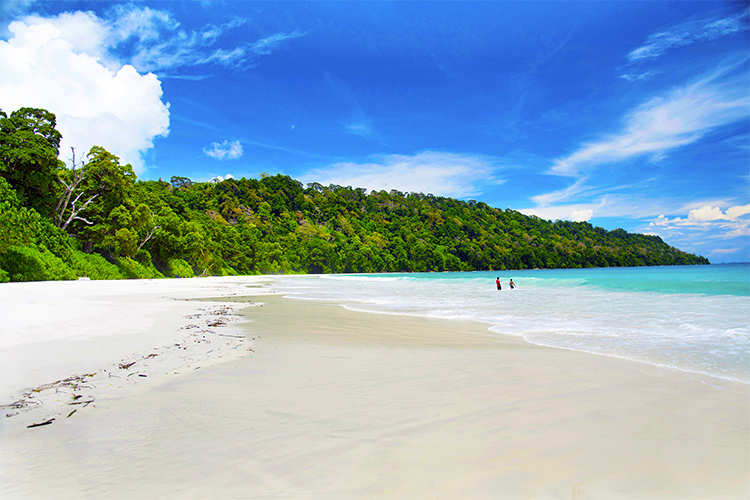 The winter holidays are here! The best part? This time, unlike last year, you get to travel!
With Covid-19 slowly becoming a memory, the world is opening its arms wide open again to welcome travellers and explorers like yourself.
Whether picking a place for your next solo travel, an adventure with friends, or a holiday with the family, there are a few things you need to keep in mind.
Make sure the holiday spot you pick is safe from the virus. If you are planning an international trip, then do be certain that the country is allowing Indian tourists.
The other things to keep in mind before choosing a holiday destination is good flight connectivity and the current weather.
Is your head already reeling from all the research you need to do?
Fret not, we have picked 10 of the best destinations for you keeping all the above parameters in mind! Let's dive in!
Top destinations for holidays within India
If dipping yourself into turquoise waters excites you the most, then go for our Andaman holiday packages.
Whether it is spending time on the beach, visiting anthropological museums, or snorkelling and scuba diving, our Andaman tour packages offer a mixed bag of experiences.
Gold-strewn beaches, cathedrals where God resides, heritage homes turned into restaurants where the wine never stops flowing, Goa's every nook is out of a fairy tale.
Thomas Cook India's Goa tour packages let you explore the coastlines of Goa in a way that no one else does.
Whether you want a quick getaway of one night and two days or are in the mood for an extensive holiday lasting seven nights and eight days, Goa holidays with Thomas Cook India are unforgettable.
Himachal Pradesh holidays leave you with some of the best memories. From quaint walks along scenic trails of valleys unexplored to rafting along stretches of tumultuous waters, Himachal Pradesh has something up its sleeves for every kind of traveller.
Our Himachal Pradesh tour packages mirror the same diversity that Himachal Pradesh offers its tourists. What's more? We currently have a Heavenly Himachal buy-one-get-one-free package for you that lets you bathe your senses in the beauty of Shimla, Manali, and Chandigarh. 
When talking about the top 10 holiday destinations, one cannot leave out paradise on earth!
The Kashmir valley, with its pristine lakes, pine forests, glaciers, and so much more, is the ideal holiday for your family.
The Kashmir holidays that we take you on will leave you awestruck. From spending afternoons on a shikara and drives through an expanse of saffron, to visits to the ancient Shankaracharya temple and stroll along the Mughal Gardens, Nishat Bagh, our Kashmir tour packages will blow your mind!
The best thing about holidaying in India is the cultural and geographical variety that you get to witness. From mountains, hills, and beaches to dunes, ghats and plains, we have it all.
Rajasthan holidays with Thomas Cook India let you experience luxury without breaking the bank. Our Best of Rajasthan and Colourful Rajasthan tour packages are available at the best prices. Book yours today!
Top destinations for international holidays
If you are planning an international holiday solo or with family, and wondering which places are open for Indians at the moment, then the following list is for you:
 Sri Lanka
The island country of Sri Lanka is inviting you to come explore its gorgeous landscapes this winter.
With beaches where even the sun enjoys itself, tea gardens that offer the most exquisite brews, and elephant parks where you can watch a baby elephant being bathed, Sri Lanka holidays are heavenly!
From the Exotic Sri Lanka and Sri Lankan Paradise to our Delightful Sri Lanka holiday packages, you won't go wrong no matter what you choose.
Dubai is a land where dreams come true. But apart from tall skyscrapers and every luxury being close to hand, it's also a favoured holiday destination among adrenaline junkies.
Our Dubai Crazy Deals offer some of the best prices at which you can visit the City of Gold.
Thomas Cook India's Dubai tour packages are a steal! From watching the lights at Burj Khalifa to trying out some of the unique thrilling activities of the city, we have everything planned for a scintillating trip. Plus, you get the chance to see Dubai Expo 2021 and Dubai Shopping Festival in the same spectacular trip!
The next destination that you must explore to bid this year adieu with a bang, is Maldives. With a number of beaches, Maldives is a beach bod's favourite vacationing paradise.
With sand as white as snow and seafood that makes you fall in love with the islands, a Maldives vacation is the ultimate way to end 2021.
Whether you pick a customised holiday or go for our group Maldives tour packages, Maldives with us is unforgettable.
If you want your post-COVID holiday pick to be unique, then choose the unexplored terrains of Oman.
Brimming with natural wonders and geological marvels, Oman is all set to become your next favourite holiday destination.
With Thomas Cook India's Oman holiday packages, get ready to know more about the rich history and culture of the place.
We have saved one of the best holiday destinations for the last. Mauritius is awaiting your arrival this winter!
A perfect honeymoon destination, our Mauritius holiday packages have hand-picked experiences curated for every kind of couple. Whether you want a cosy and quiet honeymoon with your other half or want to start your marriage on an adventurous note, we have everything under the sun for you!
Planning a trip is a hassle, especially when you are doing it after quite a while. Why not pick a luxurious yet economic Thomas Cook India holiday package and let us do all the mundane and routine tasks around ensuring a fantastic and dreamy holiday for you?
Book a tour package with us today!