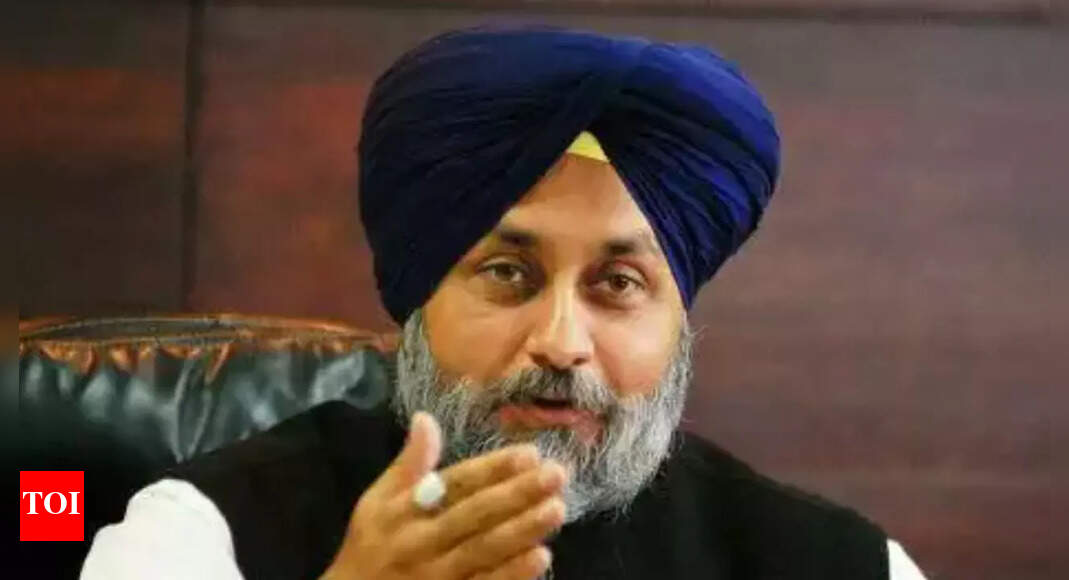 CHANDIGARH: Shiromani Akali Dal (SAD) president Sukhbir Singh Badal on Friday said Punjab had lost out on investment in the last nearly five years of Congress rule because of anti-industry policies of the state government. He said the government had done away with 'Invest Punjab' and governance reforms departments.
He added Punjab had become a victim to Congress party's defamation of Punjabis as drug addicts. The SAD president was addressing a gathering of industrialists at the Confederation of Indian Industry (CII) office in Chandigarh, during which its Punjab unit presented a manifesto, 'Making Punjab Future Ready'. CII Punjab unit president Bhavdeep Sardana focused on ensuring transparency in government functioning, digitisation, reducing industry–government interface and ensuring stability in government policies in his keynote address. Sukhbir said he had already initiated the agenda prepared by CII's Punjab unit in his last term, but the Congress government had jettisoned due to which industrial investment climate had been spoiled. "How do you expect investors to invest in the state if the ruling party defames its own people by saying that 70% of them are drug addicts?" he said. Sukhbir added industry confidence had also been undermined by the continued reference to words "khazana khali"(empty coffers) by the Congress government and its top ministers.
The SAD president assured that the focus of the next government would be on quick development, education and health. "We are committed to creating mega integrated schools at the block level, besides creating 500-bedded hospitals in all districts," he added.
SAD announces 2 more candidates:
The SAD on Friday announced two more candidates for the Punjab legislative assembly polls early next year. Former MP Prem Singh Chandumajra would contest from the Ghanaur assembly seat in Patiala district and sitting party MLA Dilraj Singh Bhundar from Sardulgarh constituency in Mansa district. Chandumajra had unsuccessfully contested the 2019 Lok Sabha elections from Anandpur Sahib. Dilraj is son of Rajya Sabha member Balwinder Singh Bhundar. The SAD has announced its 81 candidates, out of the total 97 seats on which it would be contesting, till now. The party's alliance partner – Bahujan Samaj Party – would be contesting the remaining 20 seats out of the total 117 assembly constituencies in the state.