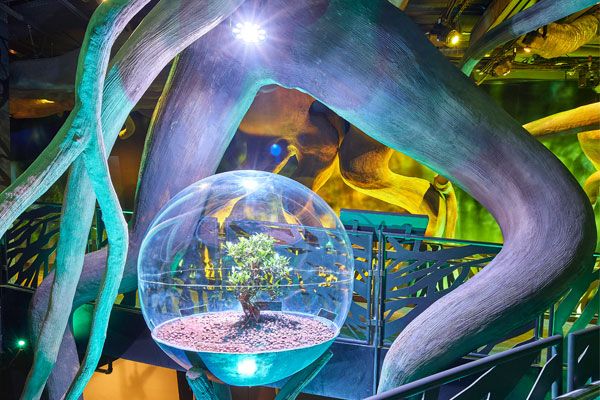 Food has been an important part of World Expos, since the very beginning. Some of the most popular food inventions have seen the light of day at one of these expos. The ice cream cone and yellow mustard each made their debut at the 1904 World's Fair of St. Louis, Missouri, while Cherry Coke made its first appearance at the 1982 Knoxville World's Fair in 1982. Dubai is an amazing food destination. But food will have a place of pride at Expo 2020 Dubai in more ways than one. It will quite literally be the world on a plate!
At Expo 2020 Dubai innovation will take center stage in keeping up with its theme of "Connecting Minds, Creating the Future". The latest global expo will also focus on sustainable ways of producing food to tackle the issue of world hunger. Technology is going to play a big part in realizing this dream. With "Opportunity" and "Sustainability" as two of its three sub-themes, you will get a peek into the future of food.
Enjoy the flavours of the world as you unravel the future, one bite at a time.
Bompas & Parr: A culinary revolution from the future
Bompas & Parr, a multi-experience design studio from UK, will dazzle you with a futuristic dining setup at their Epochal Banquet. Embark on a journey through the evolution of food, from caveman to spaceman, that will take you across three courses and multiple rooms. It will be a multi-sensory experience inspired by microbiology, space, artificial intelligence and hyper-intelligence, where talented chefs will explore new culinary frontiers.
Travel through time. Get a dazzling start to your food journey with glow-in-the-dark entrees and finish on a high with flavour-changing desserts. The entire experience, the edible masterpieces, matching drinks, and the Universal Museum of Food, will be curated by AI. Consider this to be a rehearsal for the future where AI is going to be a big part of our lives. If this experience can win over your tastebuds, the future looks to be oh-so delicious.
Food galore at Expo 2020 Dubai
You will not have to go too far into the future to enjoy good food. The cuisines of the world will be in attendance at Expo 2020 Dubai. Enjoy the flavours of Africa at the African Food Hall that will feature imaginative chefs from all over the continent. The Talabat Kitchen will showcase multiple futuristic concepts in a cloud kitchen, run entirely by robots. The expo is your chance to taste and experience some 'Never been seen before' culinary creations. From old classics to nouveau cuisine, eat your way through some of the tastiest and the most exotic foods in the world.
For all the foodies out there, Expo 2020 Dubai is your ticket to a timeless culinary journey though the ages. Thomas Cook is all set to send you on this epic voyage with a wide range of special packages and itineraries created just for you.