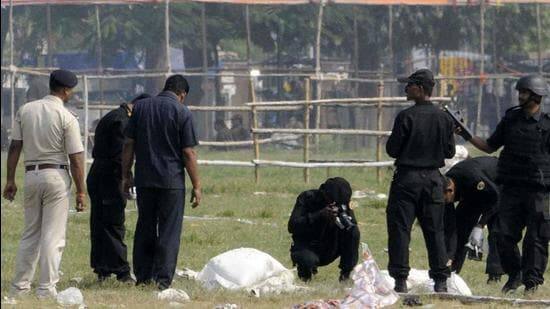 New Delhi: A special National Investigation Agency (NIA) court convicted 9 accused in the 2013 serial blast case at Patna's Gandhi Maidan. One accused was acquitted due to a lack of evidence. The quantum of the punishment will be awarded on Monday, November 1. 
2013 Serial Blast Case
In 2013, at least six bombs had gone off in Patna during Narendra Modi's "hunkar" rally. Modi was the then Bharatiya Janata Party's (BJP) prime ministerial candidate and Gujarat Chief Minister.
The blasts had left six dead and many injured. The first blast took place at Patna railway station, and the others in and around Gandhi Maidan before Modi and other leaders reached the venue.
The case was taken by the NIA in 2013 which arrested the alleged mastermind of the blasts Haider Ali in 2014. The charge sheet was filed by the NIA in 2014. And the final hearing of the case had started in 2018.
The NIA had submitted a charge sheet against 11 people in the course of the investigation. Of these, one was a minor and his case was referred to the juvenile justice board. The remaining were put on trial.
Who All Have Been Convicted?
Special NIA judge Gurvinder Mehrotra pronounced Imtiaz Ansari, Mujibullah, Haider Ali, Firoz Aslam, Omar Ansari, Iftekhar, Ahmed Husain, Umair Siddiqui, and Azharuddin as guilty. The court acquitted Fakhruddin.
Nine of the accused were members of Indian Mujahideen (IM) and one was associated with the Students' Islamic Movement of India (SIMI).
There was also a minor accused of being involved in the blast case, who was sentenced in 2017 for three years by the Juvenile Justice Board.