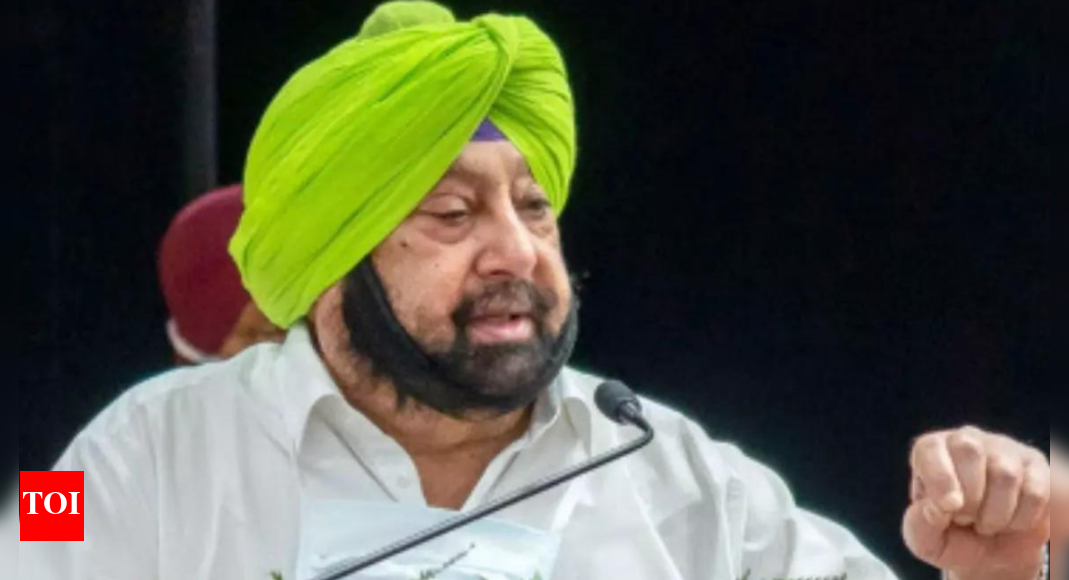 CHANDIGARH: A day after Punjab deputy chief minister Sukhjinder Singh Randhawa launched a personal attack on former CM Captain Amarinder Singh, on Friday the latter asked him why Randhawa had not complained about his friend from Pakistan Aroosa Alam when he was a minister in his (Amarinder's) cabinet.
Randhawa had on Thursday said in Jalandhar that he would ask the DGP to probe Amarinder's link with the Pakistan-based ISI through his friend and Pakistani defence journalist Alam. Referring to the ex-CM's remarks about the ISI threat to Punjab and the country, Randhawa said the state government would get Amarinder's ISI link through Alam probed.
Retaliating, Amarinder tweeted the next day, "So now you're resorting to personal attacks @Sukhjinder_INC. One month after taking over this is all you have to show to the people. What happened to your tall promises on Bargari & drugs cases? Punjab is still waiting for your promised action." In another tweet, he added, "You were a minister in my
[email protected]
_INC. Never heard you complain about Aroosa Alam. And she'd been coming for 16 years with due GoI clearances. Or are you alleging that NDA and @INCIndia led UPA govts connived with Pak ISI?"
'Will take Maur, Bargari cases to logical end'
Amarinder also advised Randhawa, who heads the home department, to rather focus on maintaining law and order in the state during the festival season.
Hitting back at Amarinder, the deputy chief minister later in the evening tweeted, "By the way, sir @capt_amarinder why are you so perturbed over the probe on Aroosa and ISI links? Who sponsored her visa and everything concerning her will be thoroughly probed. I do hope everyone concerned will cooperate with police in the probe." In another tweet, Randhawa said that he is a true nationalist and advised Amarinder not to worry about law and order situation, stating "we have not outsourced the Punjab govt to 'anyone'. Now, police is protecting people, not cheekus and seetafal."
The deputy chief minister also reminded that it was Amarinder who failed to take the probe in Maur bomb blast, Bargari sacrilege and drugs cases to a logical conclusion. "Rest assured, all these cases will be taken to logical conclusion in coming days," he added. Randhawa further said that Amarinder has suffered because he failed to fulfil the commitment towards the Guru Granth Sahib even after taking oath of holy Gutka Sahib.
Replying to this, Amarinder in the late evening tweeted, "as for who sponsored Aroosa's visa, of course I did, for 16 years. And FYI, @Sukhjinder_INC, requests for such visas are sent by Indian HC to @MEAIndia, which gets them cleared by RAW & IB before approving. And that's what happened in this case every time."
In another tweet, he added, "a detailed inquiry was conducted in 2007, when I was no longer CM, by NSA on orders of then UPA PM before granting visa to Aroosa Alam. You still want to waste Punjab's resources on this? I'll help you with whatever you need."
On the Bargari probe, the former chief minister added, ''I dare you @Sukhjinder_INC to swear on Guru Granth Sahib ji & deny that both investigating officers Kunwar Vijay Pratap Singh & Ranbir S Khatra were appointed on your recommendations. Do your job instead of making wild charges against me''. He also tweeted a photograph of Aroosa Alam shaking hands with Congress president Sonia Gandhi without mentioning the date.