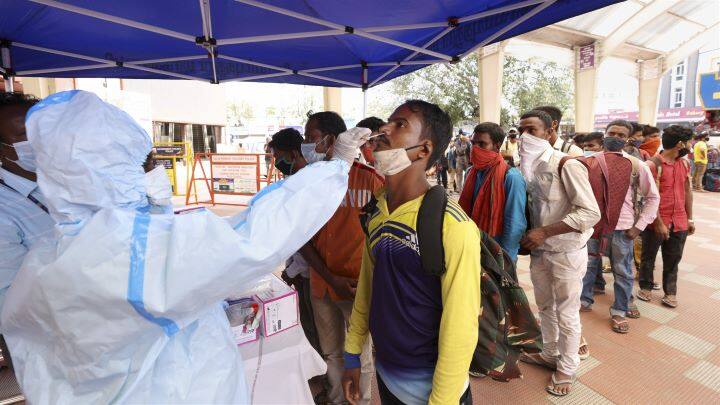 Corona Cases Update: Continuing with the downward trend even during the festival season, India has reported 13,058 new COVID cases in the last 24 hours which is the lowest in 231 days.
19,470 patients affected by the infection have recovered from the virus while 164 people have succumbed to the virus in the last 24 hrs as per the Union Health Ministry.
Total cases: 3,40,94,373
Active cases: 1,83,118 (lowest in 227 days)
Total recoveries: 3,34,58,801
Death toll: 4,52,454 Total Vaccination: 98,67,69,411
Kerala
Kerala on Monday logged 6,676 new COVID cases and 60 deaths, taking the caseload to 48,51,791 and fatalities to 26,925.
The state has been showing a decline in the daily cases after crossing the 30,000-mark post-Onam festival in August.
With 11,023 more people recovering from the virus since Sunday, the total recoveries touched 47,50,293 and the active cases dropped to 83,184, a state government release said.
Among the 14 districts, Ernakulam recorded the highest number of cases with 1,199, followed by Thiruvananthapuram (869) and Kozhikode (761).
Maharashtra
Maharashtra reported 1,485 new COVID-19 cases on Monday, the lowest daily count in more than 17 months, and 27 fresh deaths, taking the infection tally to 65,93,182 and the toll to 1,39,816, while more than 2,000 patients recovered from the disease, according to PTI.
No fresh cases were reported in a dozen districts.
Maharashtra witnessed a dip in daily COVID-19 cases and also fatalities as compared to Sunday, when it had registered 1,715 infections and 29 deaths. The fall in cases came in the backdrop of a dip in daily coronavirus tests, which slipped below the 1 lakh mark.
At 1,485, the state has recorded the lowest coronavirus cases since May 12, 2020, when the daily infection count was 1,026.
The official said with 2,078 patients discharged from hospitals in the last 24 hours, the number of recovered cases increased to 64,21,756.
The state now has 28,008 active cases.