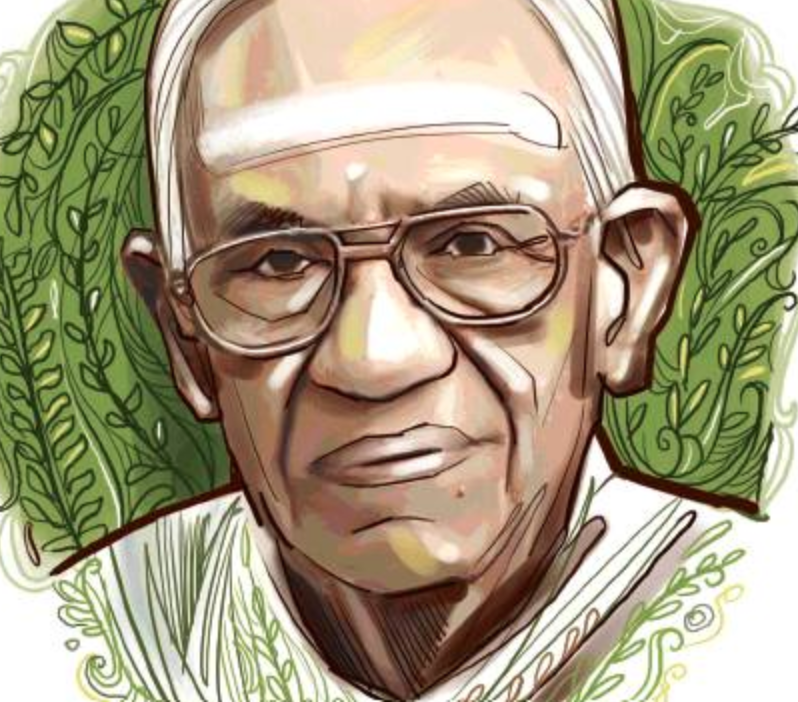 Kozhikode: Eminent Ayurvedic physician and managing trustee of Kottakkal Arya Vaidya Sala (AVS), Dr P K Warrier who played a monumental role in popularizing Ayurveda across the world and in building a bridge between traditional Indian systems of healing and modern science passed away on Saturday, a month after celebrating his 100 birthday on June 8.
The demise of Warrier, who was honoured by the country with Padma Shri in 1999 and Padma Bhushan in 2010, marks the departure of a colossus who provided a healing touch to the lives of many generations. According to AVS officials, Warrier breathed his last at the Ayurvedic hospital and research centre of AVS at Kottakkal situated near his Kailasa Mandiram residence at around noon.
Warrier's centenary birthday celebrations 'Satapoornima' was held online in June to comply with Covid-19 guidelines. Warrier himself had tested Covid positive last month but was discharged on June 17 after recovery.
President Ram Nath Kovind and Prime Minister Narendra Modi, along with a host other leaders, condoled Warrier's death. Modi said that Warrier's contributions to popularise Ayurveda will always be remembered.
A visionary institution builder, Dr Warrier had during his decades-long Ayurvedic practice given solace and care to countless patients, including VVIPs comprising a number of presidents and prime ministers from India and abroad apart from business leaders, royalty and celebrities from across the world. With equal care and concern, he treated a legion of ordinary people who came to the charitable hospital of AVS for free treatment and medicines.
He led the Arya Vaidya Sala for over six decades, turning the 116 year-old charitable trust into a synonym for excellence in Ayurveda and at the same time contributing to modernize the clinical, pharmaceutical, educational and research domains of Ayurveda.
Born to Kodi Thalappana Sreedharan Namboodiri and Kunji Varassiar on June 5, 1921 at Kottakkal, he had his schooling at Kottakkal Rajas High School and Zamorin's High School in Kozhikode and went on to study ayurveda at the Aryavaidya Patalasa (currently Vaidyaratnam P S Varier Ayurveda College).
During his student days he got attracted to the national movement and participated in the Quit India movement. He grew close to the Communist movement and even took a break from studies for two years but later quit active politics to become part of the illustrious Ayruvedic tradition of the family.
He became a trustee of Arya Vaidya Sala, founded by his uncle P S Varrier in 1902, at a young age of 24 and started his career as factory manager of the medicine manufacturing plant of AVS in 1947. He took over the reins of AVS as managing trustee in 1954 following the demise of his elder brother P M Varier in an air crash.
He made seminal contributions in the revival and mass adoption of Ayurveda as a scientific system of medicine by upholding the scientific basis of classical authentic Ayurveda treatment.
AVS, which had an annual turnover of 9 lakh when he took over has grown to have a current turnover of 400 crore.
An avid learner, Warrier was keenly interested in research and development and under his leadership AVS had taken up collaborative research programmes with CSIR for identifying bio active molecules and also for improving manufacturing processes.
P K Warrier is survived by son Dr K Balachandra Varier and daughter Subadra Ramachandran. His wife Madhavikutty K Varier, a poet, had died in 1997 and his son Vijayan Varier had passed away in 2013.
Dr Warrier's mortal remains were kept at Kailasa Mandiram for the public to pay homage. His last rites were held at the family's funeral grounds at Nayadippara with state honours in the evening. Ministers V Abdurahiman and A K Saseendran represented the state government in the funeral which was attended by leaders of various political parties and people from all walks of life. Warrier personally oversaw the cancer related studies being conducted at AVS and unique package of formulations were evolved for treatment.
He also set up the Centre of Medicinal Plants Research at Kottakkal for the conservation of medicinal plants and to undertake research in the areas of phytochmistry, taxonomy, pharmacognosy.
Warrier also initiated research activities in the fields of drug standardization, drug development and process improvement. At his instance, AVS has also collaborated with major Research Agencies like CSIR, DST, AYUSH and IIT in joint programmes on rasayana, herbo-metal formulations, bioactive molecules, etc.