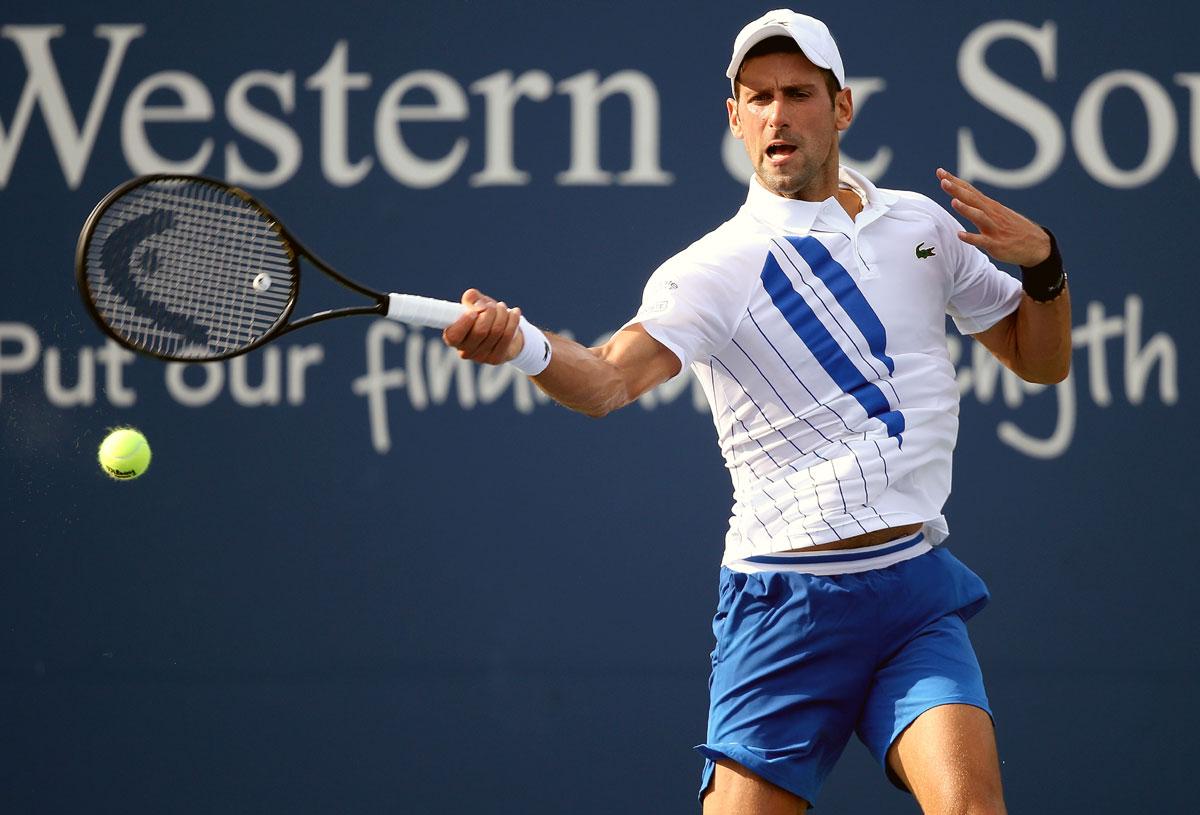 IMAGE: Serbia's Novak Djokovic had formed a breakaway players' body called the Professional Tennis Players' Association (PTPA) but repeated the assertions he made several times this year that the PTPA wanted to co-exist with the sport's governing bodies but the ball was now in their court. Photograph: Matthew Stockman/Getty Images
World number one Novak Djokovic has withdrawn from this month's ATP Player Council elections citing the governing body's new rule that would make it a "conflict of interest" because of his role in the Professional Tennis Players' Association (PTPA).
The Serb set up the breakaway PTPA on the eve of the US Open in September and resigned as head of the player council but last month he confirmed that he had been nominated by his fellow professionals for the current elections which he accepted.
However, the new ATP rule means he has had to withdraw.
"Unfortunately, given these latest developments I feel it is now necessary to remove myself from the list of candidates," he wrote in a statement on Twitter posted on Monday.
"I do not wish to create conflict or uncertainty around the player elections or create any issues that may arise."
Djokovic repeated the assertions he made several times this year that the PTPA wanted to co-exist with the sport's governing bodies but the ball was now in their court.
"The PTPA has made it clear it does not intend to be combative, it is unclear how the ATP will view the association in the future," Djokovic said.
He added that the PTPA was still in the formative stages but he was still keen to advance it to further the interests of all players, especially those in the lower ranks.
The decision to form the PTPA blindsided many players with Roger Federer and Rafael Nadal voicing their opposition.
Karthikeyan to be part of Indian racing team in 2021 Asian Le Mans Series
A star-studded line-up of Indian drivers — including Narain Karthikeyan, Arjun Maini, and Naveen Rao — will spearhead India's campaign in the 2021 Asian Le Mans Series in February, with an eye on competing in the prestigious 24 Hours of Le Mans in France later in the year.
Racing Team India will create history by becoming the first team of all-Indian drivers to compete globally in the world of endurance racing. The Asian Le Mans Series, to be held at the Yas Marina Circuit in Abu Dhabi on February 5-6 and February 19-20, comprises of four races spread over the two race weekends, with each race lasting four hours.
The Indian team will drive an ORECA 07 car in the LMP2 class, and have technical support from the Championship-winning Algarve Pro Racing Team. Padma Shri awardee and India's first Formula One driver Narain was delighted at getting another shot at Le Mans.
"I have been dreaming of going back to Le Mans for a few years now. This is probably the most exciting project in my career as a racing driver. We have a young and fledgling team and it will no doubt be a big test for us, but I am confident of doing well," Karthikeyan said in an official release.
Gautam Singhania, who is a member of the FIA (Federation Internationale de l'Automobile) World Motor Sport Council and is also an accomplished racing driver himself, will lead Racing Team India. Bangalore-based Arjun Maini's experience in endurance racing will come in handy for the team, having driven for Algarve Pro Racing Team in the 2020 European Le Mans Series (ELMS).
Naveen Rao, who is the reigning 2020 IMSA Prototype Challenge champion, looks forward to driving as part of Racing Team India.
Sarin, Gukesh & Rakshitta enter finals of Online World Youth and Cadet Rapid C'ships
Three Indians, including Grandmaster Nihal Sarin, reached the final of the FIDE Online World Youth and Cadet Rapid Championships in their respective categories on Tuesday.
While Sarin beat Francesco Sonis 1.5-0.5 in the Open under-18 section, GM D Gukesh and WIM Rakshitta Ravi also made it to the finals of the boys under-14 and girls under-16 categories respectively.
Gukesh and Rakshitta beat FM Denis Lazavik and WGM Leya Garifullina by 2-1 and 1.5-0.5 margins respectively.
The highly-rated Sarin drew the first game before winning the second to secure a final berth. He will take on Armenian GM Shant Sargsyan in the title clash.
The Indian player was initially scheduled to take on Narayana Hepler Ramirez in the semifinal. However, Ramirez was found to have violated the tournament's fairplay policy and was disqualified. As a result, Sarin faced IM Sonis of Italy.
In the under-10 boys' section, Indian lad Mrinmoy Rajkhowa missed a couple of opportunities in the semifinal to go down against American Andy Woodward.
Games are played in best of two Rapid 15 mins + 10 seconds increment in the tournament where a 1-1 tie will result in Armageddon (sudden death tie-break games).
Table tennis team worlds finally cancelled
The table tennis world team championships have been canceled because of the pandemic.
 The championships were originally scheduled for March in the South Korean city of Busan but were then postponed three times.
The International Table Tennis Federation says in a statement that it hoped to hold the event in February 2021 but was forced to cancel "due to the worsening situation in Korea Republic and with the pandemic still problematic in many regions of the world."